Spirit Story is an opportunity to demonstrate the outstanding work done every day by the voluntary, community and social enterprise sector across Manchester.
Following on from two previous Spirit Story weeks last year, we will be highlighting further stories during Volunteers' Week 2017 which takes place from 1-7 June. These stories will document the extraordinary everyday work of volunteers in Manchester.
Thursday 1st June 2017
Our first Volunteers' Week Spirit Story comes from Molly – a volunteer with NAPAC who supports the organisation as a Telephone Support Line Call Handler.
NAPAC helps adults that have been abused in childhood; their main area of work is to offer a Telephone Support line that provides support to adult survivors of child abuse. NAPAC also provides support via e-mail and they pride themselves on answering every call or e-mail they receive individually.
Sam Booth, Supervisor at NAPAC said:
"Our volunteers are a mix of people with direct and indirect experience of child abuse – sometimes they have no experience of this, but want to support our mission and cause. TV programmes and other coverage in recent months has really seen a spike in our activity – in terms of people offering to help and people looking for it."
"We cover the whole country, which makes people think we're a huge organisation, but they'll be just one volunteer handling phone calls for the whole country this afternoon, and just two this evening for the night shift."
"Volunteers tell me how they feel privileged that they get to help us, and I often see volunteers grow as people which is very rewarding. We recognise the contribution of volunteers through our organisation culture – by sharing positive feedback that we receive of our service and through celebration when a volunteer takes their 100th call. People tell me that I make a good brew too and there's always plenty of those going around!"
Sam Booth; "We value volunteers, and they know it!"
Molly Wright – Telephone Support Line Call Handler for NAPAC (The National Association of People Abused in Childhood)
How and why did you get into volunteering?
"Some time ago, I struggled with my mental health and suffered from anxiety and depression. I got better and heard of NAPAC through a friend – they said to me: "you'd be a great volunteer!", I also remember thinking that it would be a good thing to help others."
"I found NAPAC on Facebook and liked them. I noticed that they had some training coming up and this lead to me making an application with them. After a 6 week course provided me with everything I needed, I started volunteering in January 2017."
Can you describe a typical day when you volunteer with your organisation?
"I volunteer for one shift a week – which lasts for about 4 hours. We arrive and are met by our lovely supervisors – Sam and Rosie, who have a brief chat with us and update us about anything we need to be aware of when handling telephone calls."
"Then, I login to the system and make sure I have information sheets close by that are about other organisations and sources of support. I wait for the calls to come in."
"When someone calls NAPAC, we do what we can; we listen and be there for them, we offer reassurance and information to support them – it's so rewarding when someone says (at the end of a call), 'thanks for your help'."
"The call ends, where my supervisor will talk everything through with me and offers support – I then wait for another call to come in – today, I took 9 phone calls."
What do you enjoy most about volunteering?
"People call NAPAC with no one to turn to – it's such a privilege to be that person that someone looks to for care and support. Volunteering has helped me grow as a person, and I've developed keys skills such as empathy and I feel like I have boosted my own confidence."
"I remember speaking with someone who was extremely distressed – to the point where I was worried that they were in danger. 30 minutes later – after speaking with me, they were laughing and joking – they even said that they 'loved me', which was nice!"
Molly Wright; "Volunteering has made me more confident in myself, and it has helped give me direction when thinking about the career I'd like to consider (counselling)."
What advice would you give to other people that want to volunteer?
"I'd say, if you have spare time and if you want to help someone, you should go for it – you're spreading the love!"
Sam on Molly:
"Molly is fantastic and has a lovely, unique way with survivors. She's understanding and creates a sense of 'I'm here, I'm listening and I care'."
NAPAC is keen to hear from people who would like to support them; you can read more about the organisation and ways to get involved via their website at: napac.org.uk.
 ----------
Thursday 1st June 2017
Our second Volunteers' Week Spirit Story has been suuplied by John Sennett.
Enter John Sennett...
"John Sennett, a volunteer veteran brings to life his passion for helping others and the charity sector, by running the blog, John's Road to Volunteering.
John's Road to Volunteering is a platform sharing a volunteer's journey into inspiring, motivating and educating others, whilst giving others an opportunity to share their story."
Click here to read the blog John's Road to Volunteering
John has kindly written a piece entitled "What happened? Why did I fall in love with volunteering?": What happened? Why did I fall in love with volunteering?
It's the time of the year where the sector comes together to celebrate the unsung heroes of today's society; that being volunteers.
I remember when I first volunteered and the hesitant feeling I was experiencing wondering whether it was something I'd like or an activity I'd find a waste of time.
Having the bad perception of volunteering made me want to discover what the term 'volunteering' actually meant, and I don't think there's actually a definition, as volunteering is different for each volunteer.
You can probably guess that I'm still volunteering today otherwise I wouldn't be writing this, and 53 months on from my original meeting, my life has changed.
I was once the guy who saw volunteering for its unpaid nature and its lack of purpose, yet my story has now been read by 100,000s around the world.
What happened? Why did I fall in love with volunteering?
I experienced the warm, family nature called volunteering. I fell in love with giving time to those in need, as without a listening hear, someone willing to put words into action, and individuals/groups showing no-one is every truly alone, what would the world be today?
Volunteering is a self-rewarding activity, knowing with every hour given, someone out there will be positively impacted by your actions.
The young man within learned to grow up. I feel we can't progress in life without stepping outside of our comfort zones, and that's what I did by applying to volunteer.
It is a nerve-wracking experience when you click 'apply', but how can we truly know if something is right for us without giving it a try? How can we know what volunteering is unless we give an hour of our time?
Sitting in the reception at Pavilion on the Park in 2012, I was unaware how my life would change the second I applied to volunteer, and I have a lot to thank the charity for. Pavilion on the Park welcomed me into their volunteering family with open arms, and somehow helped me to realise who I was as a person.
The beauty of volunteering isn't the amount of impact you make in the time you give, it's what happens outside of those hours. Not only have I learned a lot about myself thanks to volunteering, it's awoken a passionate campaigner in me, to ensure others have equal opportunities and stories are heard.
My story would have never started in the first place without the amazing Volunteer Coordinator at Pavilion on the Park. I stepped into their environment with no relevant qualifications or experience, yet the opportunity to learn was presented, giving me a chance to define who I am.
Volunteer Coordinators to me are the unsung heroes, as without them, volunteers wouldn't have roles to go to or the incredible support we have in developing ourselves for the future.
Talking about roles, how do I find roles to suit me and what roles are available for the 'average joe'?
I had no clue what to look for, where to look and what was available in 2012, but quickly learned, when you volunteer, volunteer where your heart is.
Have you got a passion you'd love to explore?
Experienced a hard time in life and want to give back to say thanks?
Got your eye on a specific career, but need experience?
Knowing I wanted to kick-start a new career for myself after going from job-to-job, I started where my personal experiences lied.
My sister suffered a stroke at the tender age of 21, and things haven't been the same since. Noticing the looks she receives, how people exclude her due to the way she walks and talks, I wanted to act. I wanted to act and to put this at the heart of my work.
London 2012 kick-started this thought to volunteer, when I attended the Paralympics, and the way the crowd came together to celebrate the dedication the athletes put in to compete, drove the passion I now have for equality.
Learning what works for you, makes finding a volunteering role a little easier. I went to do-it.org to find my first role, and the site helped me to break down my wants and needs to find the role for me.
How do you find a role when you're on a tight schedule?
I pointed it out earlier in this post about how I was looking for a new career, and I decided to leave my current job to start from scratch. I had more time on my hands to give to the community and to figure my life out, yet time isn't a factor when you're volunteering, you are!
You're the barrier that's stopping you to volunteer, knowing from my own personal experiences how flexible charities are.
Are you a parent with only time free when your children are at school?
Free only on the weekends, and not wanting to travel far?
Want to bring your friends along and give back together?
Asking yourself a few simple questions and understanding why you want to volunteer and when you're available, makes a significant difference for yourself and for the charity you're approaching.
Volunteering roles can be one off, a few weeks, a few months, even a few years depending on the role, and this is why I recommend before you apply, you know what you're looking for.
I talk about this, but during my volunteering journey, I've taken on roles I originally didn't believe would be right for me, and yet I thoroughly enjoyed my time. Volunteering really is individual and you have to go with how you feel about a charity, the role on offer and your wants and needs.
Remember, volunteering is a two-way process and the impact you make on the charity's service users, the impact should also reflective your progression too.
Giving my time to the community has helped me to grow, to learn more about myself and my influence, and to give me a sense of purpose in life. Maybe it'll do something similar for you too?
How will you know though unless you give volunteering a try?
You can read more about John's story via his regular blog (John's Road to Volunteering) at: johnsroadtovolunteering.com.
You can read more about Volunteers' Week 2017 at: volunteersweek.org.
If you'd like to know more about volunteering and ways that you can get involved, visit the Volunteer Centre Manchester website: www.volunteercentremanchester.co.uk or call 0161 830 4770.
Stay in touch with updates from Volunteer Centre Manchester on social media at: #volunteersweek and tell us what you're up to with #HeyVCM.
You can find your local Volunteer Centre at: www.ncvo.org.uk/ncvo-volunteering/find-a-volunteer-centre.
----------
Monday 5th June 2017
Our third Volunteers' Week Spirit Story comes from Hannah – a volunteer with City Year UK.
City Year UK is a youth social action charity, challenging 18 - 25 year olds to give a year in their local community supporting students and schools is disadvantaged areas across Greater Manchester.
City Year volunteers give their time 4 days a week at a local school as tutors, mentors and role models, supporting students both in and outside the classroom.
Volunteers also undertake training one day a week to support the work they do in schools and to help them develop transferable and employability skills.
Jo Tripney, Recruitment Officer for Greater Manchester said:
"We involve volunteers as 'near-peer' mentors as (in terms of their age), they are closer to school age children and can empathise with what they are going through. Volunteers are involved in every aspect of school life; they go into the classroom and support with lessons, they run one to one support sessions with children that are struggling, they even get involved in break and lunchtime activities - and set up after school clubs!"
"We also invovle volunteers to offer them development opportunitites - to upskill the next generation that is coming through. Volunteers gain training through our leadership development programme (which is accredited). As the commitment to City Year is significant, we provide living and travel expenses - and a uniform. "
Jo Tripney: "Our Volunteers give over 1000 hours a year and work with 100's of children who without them would have less suport."
Hannah Affleck - Volunteer Mentor for City Year UK
How and why did you get into volunteering?
"I'm currently a Criminology and Psychology student, I wasn't planning on doing a placement year as part of my studies, but one day, City Year visited our university to talk about their work. I was capticated by what they had to say - it was something that I really wanted to do!"
"I've always wanted to work with children as well, and this looked like a really good opportunity to explore that."
Can you describe a typical day when you volunteer with your organisation?
"My day starts at around 8:15 am, we talk with fellow volunteers, teachers and school colleagues to ensure that the day starts on a positive note. I support in a classroom from 9 am until 11 am - this could be with behaviour or school work."
"At break time, we'll also help with behaviour management and organise games or activities. Prior to lunch we go back into lessons and help with maths, english or guided reading. At lunchtime we run things like 'behaviour clubs' to ensure that pupils with more challenging behaviour are ready to take part in lessons in the afternoon."
"We have a lunch break - which allows us some time to reflect and decompress, we then help out with more reading in the last hour of school - we really see the kids grow at this time!"
"We also run different after school clubs at the end of the day - I run a textiles club (which is the most chaotic!), we see the children safely on their way from school and tidy up."
What do you enjoy most about volunteering?
"I enjoy seeing the difference I am making in children - I enjoy watching them grow as people."
"I remember working with a more challenging child (of 9 or 10 that I focus on), their behaviour was very poor and would often join me at lunchtime - in the behaviour club. One day, after spending a lot of time and effort building something from lego, they were so proud that they wanted to show others. Unfortunately, a fellow pupil knocked it from their hand and it smahsed into a thousand pieces - I recall thinking: 'oh no! we're going to have a real problem on our hands here'. Imagine my joy when they collected the pieces together and said: 'I had fun building it once, I'll have fun building it again' - this was later discovered to of been based on the behaviour I'd exhibited previously!"
Hannah Affleck: "I've grown so much as a person, I'm more confident in many aspects, especially with public speaking - which I used to fear!"
What advice would you give to other people that want to volunteer?
"It's going to be tough - depending on what you do! It is so worth it, if you stick it out, it'll be the most rewarding thing you'll ever do."
Jo on Hannah:
"Hannah has made a massive impact at the school she serves, she's been able to reach children that face challenges, and has helped them integrate more into school!"
City Year UK is keen to hear from people who would like to support them; you can read more about the organisation and ways to get involved via their website at: cityyear.org.uk/join.
----------
Tuesday 6th June 2017
Our fourth, fifth and sixth Volunteer's Week Spirit Stories come from Beca, Al and Marie who all volunteer with Manchester Action on Street Health (MASH).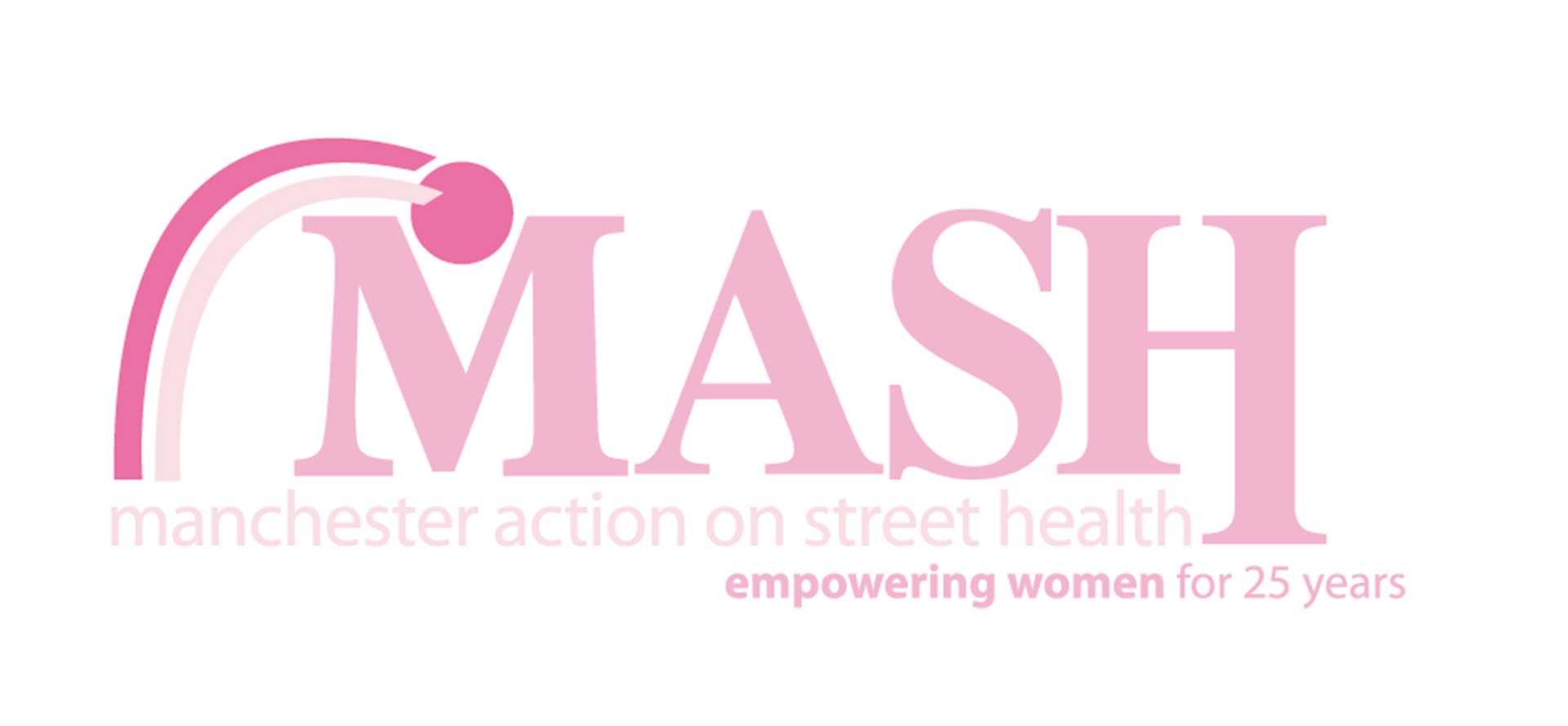 "MASH supports women engaged in prostitution (sex work). Last year MASH supported 884 women.
All the women we support are individuals and have their own reasons for sex working, however some women feel like they have less choices than others and MASH specialise in supporting and empowering these women, who often have very complex needs."
"Our volunteers come from all sorts of backgrounds and bring a variety of skills and experience. What they all have in common is a commitment to the women we work with and an incredible enthusiasm and dedication.
All of our volunteers undertake comprehensive training and receive ongoing support and supervision. Regular volunteer meetings keep everyone up to date and social events help people get to know each other."
Beca's Story
Hello I'm Beca.
I'm 35 and I've lived in Manchester for over 7 years now. I'm from Romania and I have volunteered before in Romania and Africa.
I decided to volunteer at MASH because I had an awareness of sex work and the struggles that women are facing…and a bit of a guilt trip too if I'm honest. Back in Romania I've studied theology and across the road from our student camp there were quite a few street sex workers- every day of the year, any season, snow or unbearable heat they were there, few yards away…the religious environment I was in was of such nature that nobody would cross the road to talk or to offer support or a cup of tea or water to those women, but they'd pray for them… My guilt trip is for never having the courage to speak up for the wrong I was seeing and merely chose a complacent situation.
Volunteering at MASH
I have wanted to volunteer with MASH for many years but I let work get in the way. The day I quit my previous job I went on the MASH website and it was advertised that MASH is looking for Romanian and Hungarian volunteers and I got in touch straight away. It was a blissful moment.
I helped in the Drop-In Centre for a few months then I started Street Outreach. Meeting the Romanian service users is my main interest; building up working relationships with them, making them aware that there is help and support at MASH either regarding housing issues, immigration, health, crime reporting and if they wish, finding a different sort of job. Being able to express yourself in your native language allows for more clarity and understanding, it creates a safer, more open rapport and a lot of the times, this gives vulnerable women a chance to be reached, listened to, informed and empowered.
MASH provided in house training as well as facilitated various training with Matta regarding women in prison, LGBT foundation regarding working with trans service users, mental health etc.
At times the interaction with service users has been more emotional. MASH has a wonderful diverse team of staff, managers and volunteers open to listen and support each other. It is a strong positive environment.
The impact on me
There are many moments that have made a real impact on me: Seeing a new service user getting in touch after hearing about MASH from other sex workers; each time we give hope to a woman that is not aware of the available support is a moment of success. Less fear, less confusion, more trust and hope. This is what springs me on.
If you can spare a few hours a week, getting in touch with Dan will change your life and the lives of others. You will learn, grow, make friends and most important get to hold the hand of women in a vulnerable situation, listening, giving hope and making a real impact.
Thank you so much!
Regards,
Beca
Al's Story
Hi, I'm Al. I am 27 years old and originally from Germany. I lived in Manchester for almost 2 years.
MASH was my first time volunteering in the UK, but as a teenager and student in Germany I volunteered in youth groups and refugee support groups.
I first heard about MASH when Helen (the Fundraiser) came to my roller derby team Arcadia Roller Derby because my teammates had raised some money for MASH. A few months later, my housemate went to the "Women in Media" Conference in spring 2015, and on the back of the programme leaflet was an advertisement for MASH. After that I got in touch.
I originally volunteered at MASH because I was working on a short documentary film for my MA about volunteers at MASH, and later conducted research for my dissertation film project. Soon I realised that I really liked volunteering so I stayed even after finishing my studies. Volunteering with MASH gave me the feeling of not just living in Manchester, but being part of this amazing city and its diverse population, being part of a community.
Primarily I volunteered in the MASH Drop-In Centre, mostly on a Wednesday evening but if my schedule allowed me, sometimes in the afternoons too. Basically I do anything necessary to make the ladies who come in feel welcome and safe, by making a cuppa or having a chat … !
Furthermore I have helped out by making a short video for a MASH crowdfunding campaign.
Some days are tough, some stories you hear or things you experience in the Centre can be hard to process. And due to confidentiality, you cannot discuss everything openly with your partner or housemates at home. But after every session at MASH there is a de-brief, where anything from the session or beyond can be discussed with other volunteers and MASH staff. And I know that all other volunteers or staff always have an open ear if something needs to get off my chest, at any time!
I have grown so much in my understanding of the diversity of human life stories; and to see far beyond my own limited world. I've spoken to women who faced so much adversity and so many challenges in their lives, yet they stand tall and confident and strong and make the best of what life brings them every single day. Often when I get so stuck in my own life and my problems, I recall some of the MASH ladies, and their energy just gives me so much strength.
If you are thinking about volunteering with MASH – Do it! You have a lovely support from other volunteers and staff, you can learn so much every single session, and you will contribute to making Manchester a place where people care for each other even more!
Marie's Story
Hello, I'm Marie. I've been volunteering at MASH for a couple of months.
I run my own business – English Rose Bakery – that I set up with a friend, we bake and sell macaroons. It's fantastic and I'm lucky enough work part-time now. My job before was very different – I worked with vulnerable people in the drugs service, that's where I heard about MASH. I heard first hand from women using MASH about what a fantastic place it is and I really liked MASH's ethos of empowering women. Now I have some free time I decided to get in touch and see if I can help.
I come in once a week to the MASH Drop-In centre, just near Piccadilly Train Station. Dan, the MASH Volunteer Co-ordinator, asked if I would be prepared to use my cooking skills so I tend to come in an hour before we open and cook a meal for the women.
I've discovered that its best to cook veggie food as even the meat eaters can have it and usually cook something with pasta, rice or potatoes. It's different to cooking at home – I use less spices and try and cook something that will be suitable for fussy eaters! I've had mostly good feedback and have found that women who aren't keen on the food are very upfront about it so I know what to tweak!
Since running my bakery business I really missed working with people and I really enjoy the difference I can make to someone's day at MASH. It's great to be able to provide a warm meal for women with little else and I think it makes the Drop-In Centre very welcoming.
MASH is keen to hear from people who would like to support them; you can read more about the organisation and ways to get involved via their website at: mash.org.uk/get-involved.
----------
Thursday 7th June 2017
Our seventh Volunteers' Week Spirit Story comes from Eileen – a volunteer with Age UK Manchester.
"Age UK Manchester (formerly Age Concern Manchester) is an independent charity working with and for older people across Manchester.
Age UK Manchester offers information, advice and support to people aged 60 or over, we provide high quality day, home and residential care in Manchester and run a number of projects and services for older people throughout Manchester."
Many volunteers tell us that they feel very satisfied in the knowledge of making a positive impact upon the lives of others. Many also tell of their experiences gathered during their time with us, describing them as valuable and helpful on their own life paths.
Kim Hyde, Ageing Well and Volunteer Lead said:
"We find that people will come and develop with us - we do have set roles (such as in our day centres and with ageing well clubs and activities), but quite often we'll find ourselves developing a role around a specific skill - it could be gardening for example!"
"We have regular meetings where we come together to talk about what we all do and how we can improve this. We recently had a Cheese and Wine Night as part of Volunteers' Week - all the volunteers from different teams (cafe, gardening, day centre etc) came together and it was a great success!
Kim Hyde (left): "Just come and see what we (Age UK Manchester) do, if you like what you see, we'll have a way that you can get involved!"
Eileen Jackson - Volunteer for Age UK Manchester
How and why did you get into volunteering?
"I used to be a Community Development Officer for Manchester City Council - for many years and had encountered volunteering from this point of view. When I retired (about 12 years ago), I took a little break so that I could take a look at my life, what I did - and to take some time out."
"Despite this, people would ask me: 'will you come and join our management committee, will you help us fundraise?', I think ibecause it was part of my job."
"I'd always resisted it and would say to myself: 'that's what I did for a living - why would I want to do it as a volunteer?' So I did lots of other things; I visited art galleries and museums, I went to concerts, keep-fit, until one day a friend contacted me and said: 'you've been sat on your bum for a long time - come to this meeting with me.'"
"She took me to Crossacres Resource Centre in Wythenshawe (where Age UK carry out a lot of their work), to sit in on a meeting about getting something called 'Come Dancing' events off the ground - although I was there as an observer, I found myself speaking after no more than ten minutes - I was really drawn in by it all, I met Kim and other people that volunteer for Age UK Manchester and before I knew it, I was volunteering with the organisation."
"And here I am now, ten plus years later!"
Can you describe a typical day when you volunteer with your organisation?
"It's so varied! Last week I was helping in the Cafe - a volunteer who'd helped previously had recently left and I was filling in; opening up, preparing food and greeting people. I could be going to a meeting on behalf of the organisation, representing them and feeding back what I've shared or found out, each day or time I help is different!"
What do you enjoy most about volunteering?
"What I like is the flexibility, for me it isn't a full time commitment - I can still go to keep fit, the theatre and do other things. I enjoy being able to programme my time for volunteering."
"I've used the skills I've had - and still have, to benefit Age UK Manchester; by organising events and activities and supporting fundraising."
"I enjoy hearing from new people that I meet through volunteering, fellow volunteers tell me that they've improved their confidence, they have a lot of fun, they like the camaraderie and social aspect of volunteering - and it get's them 'out of the house' which is good for their health".
"For me, it also allows me to still be involved in my community where I live - and I want to carry on participating and give soemthing back."
Eileen Jackson (bottom left): "You give a lot; you give your time, your energy, but you get a 'feel good' feeling."
What advice would you give to other people that want to volunteer?
"Just give it a go, whatever it is, everybody's got skills to share - even if you think you haven't; you can simply just sit and talk to somebody, you can complete paperwork, help in a shop or a cafe. It doesn't matter how old you are - all you need is enthusiasm and energy (and we all have that in adundance!)."
Kim on Age UK Manchester Volunteers:
"Thank you to Eileen and all the volunteers that support us at Age UK Manchester - put simply: they do an amazing job!"
Age UK Manchester is keen to hear from people who would like to support them; you can read more about the organisation and ways to get involved via their website at: ageuk.org.uk/manchester.